Starting A Meeting
Zoom offers you several ways to start both instant and scheduled meetings.
From the web portal (https://apic.zoom.us)
From the downloaded Zoom Application
From your mobile device (available in the Apple and Google Play app stores)
Your Outlook Calendar (Zoom plug-in is installed)
Before the Meeting
Test your Audio and Video!
If you expect more than 10 people to join your meeting, consider bringing a subject matter expert to assist you. APIC IT team is available for you!
Zoom allows you to have a co-host, so that we can help manage participants, chat, and Q&A. View this article on our support site to learn more about the co-host feature.
Make sure you are in a space where you can control noise and interruptions.
Make sure to choose the correct audio input and output sources and levels
Make sure to choose the correct camera for the meeting if more than one option is available
Have the content you intend to share prepared ahead of time
Make sure you know how to share your screen
Hosting A Meeting
Use "Mute participants upon entry" feature when scheduling your meeting
Mute your mic if others are presenting/speaking
Use "Gallery View" for smaller group/team meetings
Always record
Use dual monitors (when possible):
It may be quite difficult to manage all aspects of an online event on a single monitor. Add screen sharing to that and you may find windows are always in your way while you present. With a second monitor, you can host the screen sharing on your primary display and move windows like your participants list, chat, Q&A, and polling to a secondary monitor which will give you a greater ability to track everything at a glance.
Share your screen
Share specific Applications to control displayed content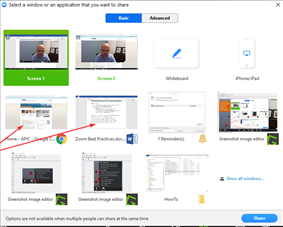 Select the PowerPoint presentation you wish to display (NOT the "screen" option), this makes sure participants can only see your presentation, nothing else that may be going on with your computer during the presentation. Your slide deck will then come up as your main screen.
When you are screen sharing, the controls will appear in a moveable bar. It is typically at the top of your screen, but you can drag it around as needed.

You may have to "mouseover/hover" over the lower green and red section to have the other options show up for you – the controls auto-hide when you are not using them.
Use "Pause" to freeze the view to the participants

Use "New Share" to seamlessly transition between shared applications.

Use the Annotation tools to grab and direct attention

Turn the camera on! – Looking your best
Lighting should come from in front of you or from the side to best light your face
Pay attention to hair and clothing – people can still see you
Think about your background - make it interesting but not distracting
Put your webcam at eye level or higher – experiment for best angles
Use the gestures and mannerisms that you would typically use in person
Make Eye Contact - Try to look at your webcam versus the screen