For Video:
Avoid backlighting (i.e. windows or lights behind you).
Frame your shot close up with a just a little headroom. Avoid showing too much ceiling.
Look directly at the webcam as much as possible to address your viewers, not at your computer screen.
If needed prop your laptop up, in order to get the camera more in-line with your face.
Avoid a cluttered and distracting background, too noisy, or too dark or too light.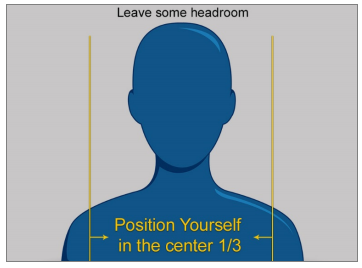 For Audio:
Join your Zoom virtual meeting, using your computer audio (built-in microphone). You don't need to dial-in using your phone (dial-in should be used as backup only).
Use a quiet room (no A/C, fans, traffic, and avoid rooms with a lot of echoes typically caused by tile, cement, hardwood, etc.).
In your audio settings make sure to adjust the input level to avoid distortion caused by too much volume.